04/13/2016 02:09 pm ET-Huffington Post
Dennis Hastert
No, it wasn't African-American young men of the '90s — supposedly feral, "fatherless" and "godless" urban youth hell-bent on murder and mayhem — who were "super-predators," a
myth since exposed
and which was
created by
the Princeton political science professor John DiIulio (who later became George W. Bush's first director of the Office of Faith-Based and Community Initiatives) based on junk science.
The same twisted ideas that led to the "super-predator" myth, which we've seen raised and debunked again during the current Democratic primary race
amid discussion
of the 1994 crime bill, have been used by anti-LGBT religious conservatives to argue against marriage equality. They promoted the notion that gays would destroy "traditional marriage," which supposedly would contribute to a breakdown in the family, causing deviant and dangerous consequences.
Some of those arguments against marriage equality were informed by a similarly
debunked myth
that gay men are likely to be sexual predators, the lie perpetuated by anti-LGBT hate mongers for decades, using junk science to exploit and further rampant homophobia in society in same the way the "super-predator" myth used it to exploit and further racism.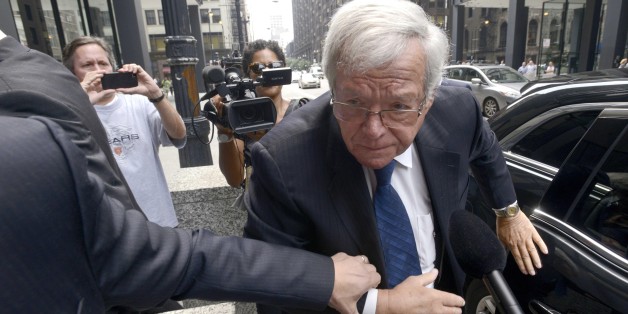 Dennis Hastert, API
Meanwhile, the true example of a "super-predator" appears to have been former GOP House Speaker Dennis Hastert, a man who
prosecutors now say molested at least 4 boys
, including a 14-year-old and one who years later took his own life. Since the statute of limitations on those crimes, which took place decades ago, has expired, Hastert will only receive up to six months in jail on charges stemming from bank withdrawals of large sums of cash in violation of federal law, in what prosecutors say was for the purpose of "hush money."
Worse yet, through the years, as he covered up the sexual assaults he committed as a wrestling coach back in Yorkville, Illinois, Hastert pushed policies and positions as a House member and as the Speaker of a far-right GOP majority from 1999 to 2007 that demonized gays in part by portraying gay men as sexual predators.
more