Donald Trump, the real estate magnate and reality television star who has said Mexican immigrants are rapists and has called for banning all Muslims from the U.S., won the Republican primary in the pivotal state of Indiana on Tuesday night. The victory essentially ensures that, if polls of the final handful of states are correct, he'll be the Republican nominee for president in 2016.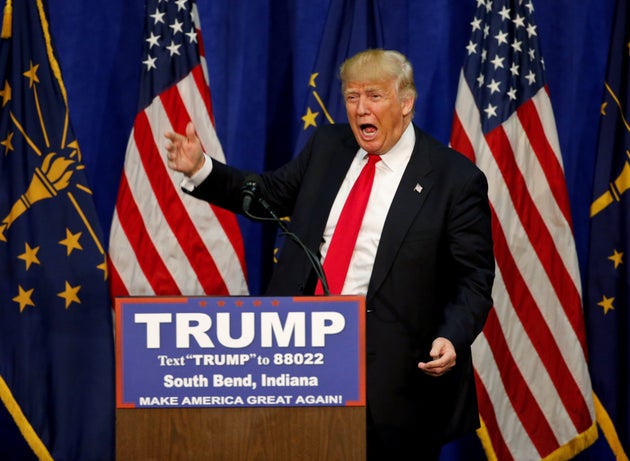 U.S. Republican presidential candidate Donald Trump arrives
for his campaign rally at the Century Center in South Bend,
Indiana, U.S., May 2, 2016.
The Republican presidential primary is a race for delegates, not votes, and for months, Trump's opponents had held out hope that they would win enough delegates to deny him a majority on the first ballot at the July convention. Now, after last week's
stronger-than-expected showing in Pennsylvania
, Trump may wrap up the nomination earlier than his foes had feared. His Indiana win comes on a day dominated by Trump's charge that his GOP rival's father was involved in the assassination of President John F. Kennedy. Seriously. That happened.
Trump
didn't need Indiana
to keep him on track for an outright victory, but his win on Tuesday makes the ultimate outcome all but certain.
Trump had nearly 1,000 delegates going into Tuesday.
With his strong showing in Indiana, he should win the vast majority of that state's 57 delegates and draw within 200 delegates of the 1,237 he needs to secure the nomination.
In California and New Jersey, the largest remaining states, polling shows Trump ahead by more than 20 points. If those numbers hold, he'll win all of New Jersey's 51 delegates and the vast majority of California's 172. There's also a good chance he'll win in West Virginia, where he may pick up a couple dozen additional delegates.
more