BREAKING NEWS (MASS SHOOTING) : San Bernardino, California. Its a 20 victim person shooting situation....There are multiple people down. 3 suspected shooters. Fire officials are reporting a large-scale shooting incident in San Bernardino, California.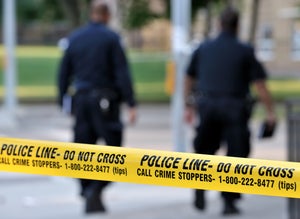 The San Bernardino Fire Department tweeted Wednesday morning that there were reports of 20 victims, though it wasn't immediately clear how many were injured. The shooter was still at large at about 11:30 a.m., the San Bernardino County Sheriff confirmed.
Witness Jose Serrano told The Huffington Post he had stopped by Sepulveda Building Materials to drop off supplies when police swarmed the nearby Inland Regional Center. He and approximately 20 others are seeking safety inside the former building, he said.
"Oh my god, there's gotta be at least 100 cop cars," Serrano, 44, told HuffPost. "Police, SWAT team, even probation officers."
Serrano said he isn't scared because "there's tons of police all around," but said through police barricades he can see victims leaving Inland.
"I've seen people on gurneys getting into the ambulances," he said.
The nearest trauma center is at the Loma Linda University Medical Center.
"We expect to get busy, but we haven't yet," said Larry Becker, a hospital spokesman.

Terry Pettit's daughter was trapped inside the building during the shooting. He told KABC-TVthat he received the following text messages from her: "Shooting at my work. People shot. In the office waiting for cops. Pray for us. I am locked in an office."....DEVELOPING STORY.