Hillary Clinton beat Sen. Bernie Sanders (I-Vt.) in Pennsylvania's Democratic presidential primary, nabbing the biggest prize in Tuesday's elections and further widening her delegate lead over Sanders.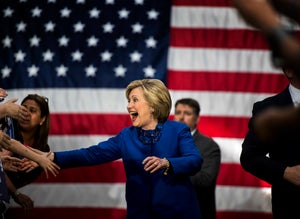 Hillary Celebrates
She also won Tuesday's primary contests in Delaware and Maryland.
Clinton won Pennsylvania in 2008 as well, in part because of her
deep ties
to the state. Her grandfather
worked in a mill in Scranton
, her father was born and raised there and Clinton herself often visited. It was a welcome win after she faced a string of losses to Barack Obama.
The former secretary of state brought up those local ties during a Friday rally in the northeastern part of the state when talking about her support for gun control measures.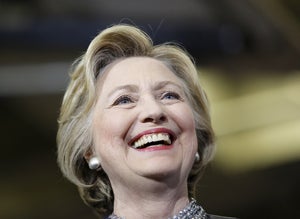 Hillary! Hillary! Hillary
"I want to be really clear about this, because I learned how to shoot a gun behind our cottage in Lake Winola. And I know how important gun ownership and particularly hunting is here in northeastern Pennsylvania," she said. "And I want you to know that we can't
ignore
the
Second
Amendment
and we can't
ignore
that 33,000 people a year die from gun violence. And I think we are smart enough to figure out how to do that."

Donald Trump
Clinton also had the
backing
of Dem
ocratic officials in the state, including the mayors of Philadelphia and Pittsburgh, the governor and the Democratic U.S. senator. She spent election night in Philadelphia.
Clinton had been
leading in the polls
in the run-up to Tuesday, although it was by a small enough margin that many Sanders supporters hoped he could pull off a win there by
winning over
many of the state's rural, white, working-class voters — some of whom may have supported Clinton over Obama in 2008. He attracted
big crowds
to his rallies and called the state's contest "
enormously important,
" stressing, as he often does, that he would do well if turnout was high.
more