GENEVA (Reuters) - Up to 5.3 million people in
South
Sudan
may
face a severe
food
shortages during this year's lean season, the U.N. World
Food
Programme said on Monday, nearly
double
the number in the first three months of the year.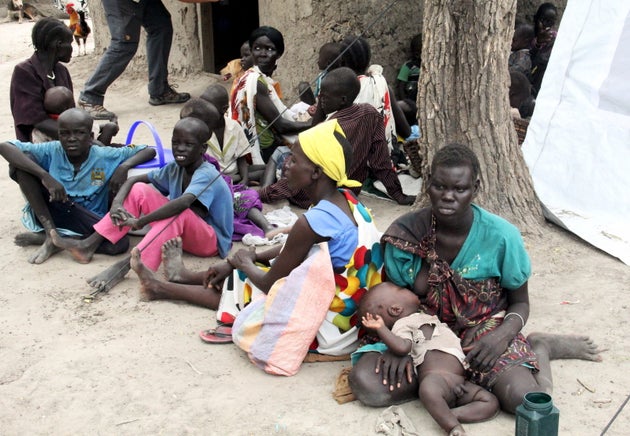 The United Nations World Food Programme warned on Monday
that as many as 5.3 million people in South Sudan may face severe
food shortages.
From January to March, 2.8 million people were classed as being in "
crisis
" or "emergency"
food
situations, with about 40,000 thought to be suffering an outright famine.
The rising h
un
ger comes despite attempts to end more than two years of war, which started in December 2013 when President Salva Kiir sacked his first vice president Riek Machar, triggering ethnically charged violence.
Some fighting continues, but Kiir was able to name a new cabinet in late April, including former rebels and members of the opposition, after Machar returned to Juba and got back his old job.
"Internal
food
security analysis shows that
South
Sudan
will face the most severe lean season in 2016 since its independence, driven by insecurity, poor harvests, and displacement in some areas of the co
un
try," said a WFP report published on Monday.
"As many as 5.3 million people
may
face severe
food
insecurity, with particular areas of concern in the non-conflict affected states of Northern Bahr el Ghazal and Eastern Equatoria."
During the 2015 lean season, which r
un
s from March to September, about 4.6 million people were classed as severely "
food
insecure", WFP said previously.
The most severe conditions are in
Un
ity State, where a team of
food
security experts fo
un
d a risk of "widespread catastrophe" during a visit late last year.
The
Un
ited Nations says 1.69 million
South
Sudan
ese are displaced within the co
un
try and another 712,000 have fled into neighbouring co
un
tries. The U.N. humanitarian plan for
South
Sudan
has received only 27 percent of the $1.29 billion needed.
With Donald Trump as the Republican party standard bearer in the upcoming election, if he were to be elected as President of the USA all these people would stave to death becaude Trump will not support projects like this to help feed the hungry ones.
more