One day after the worst mass shooting in American history, Tennessee State Rep. Andy Holt (R) said he plans to give away two AR-15 assault rifles — the same kind of weapon used in the massacre — as a "door prize" at an upcoming political fundraiser.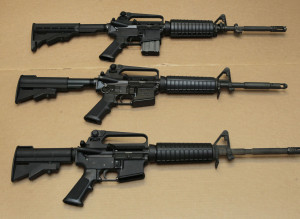 Holt, a self-described conservative Christian, had announced last week that he would give away one AR-15 at "Hogfest," a barbeque fundraiser on his farm that has a petting zoo and hay rides. But when reporters asked him after the Orlando, Florida, shooting on Sunday whether he still planned to give away the assault weapon, he told reporters that he
now wants to give away two
instead of one.
"I'm furious that I get phone calls from the media asking me if I'm still going to give away an AR-15 at our HogFest, rather than asking me how many extra firearms I'll be handing out to ensure people can protect themselves," Holt
wrote in a Facebook post
on Monday. "After all, it was a bullet that stopped the terrorist. Amazing how so many seem to miss that fact."
Holt went onto write that people "should not focus on the gun itself," but instead on "the depravity of the heart of the person who's pulling the trigger." He encouraged people to buy more guns to protect themselves.
"I want you to arm yourselves and learn to shoot with deadly accuracy should the need arise," he wrote. "Protect your family. Protect yourselves. Protect your friends. Our government has made it quite clear that it is incapable of doing so. At the end of the day, it's your responsibility anyways."
Early Sunday morning, a shooter armed with a 9mm handgun and a .223 caliber AR-15-style semi-automatic rifle stormed into Pulse, a popular gay nightclub in Orlando. He began firing, killing 49 people and injuring 53. The gunman, Omar Mateen, passed a full background check and
purchased the firearms legally
the week of the shooting, despite the fact that he had a
history of domestic violence
and was questioned by the Federal Bureau of Investigation in 2013 for possible ties to terrorism.
more