Woman fined J$10,000 for stealing milk powder in JAMAICA
KINGSTON, Jamaica – A woman was fined J$10,000 after she pleaded guilty to stealing two packs of milk powder from a supermarket.
Ann Bryan, who appeared in the Corporate Area Resident Magistrate's Court Wednesday, told the court that she was under a lot of strain at the time, and that it was the first time something of that sort had happened.
According to Bryan, she had the money and it was unfortunate that she attempted to leave the store with the items without paying.
She, however, said that when she was accosted she offered to pay for the Lasco, but her offer was refused.
"How unfortunate," Senior Resident Magistrate Judith Pusey said.
She was subsequently sentenced to pay the fine.
Racquel Porter
Grand Jury Indicts Six Officers In Freddie Gray Case in Baltimore, MD
A grand jury has indicted six Baltimore officers on a range of charges after State's Attorney Marilyn Mosby presented her department's investigation into the death of Freddie Gray.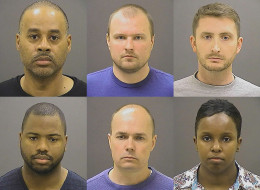 In a press conference Thursday, Mosby announced that the grand jury charged all six officers in connection to Gray's death. Officers Edward Nero, Garrett Miller, Caesar Goodson, William Porter, Sgt. Alicia White and Lt. Brian Rice face a slew of charges ranging from misdemeanor negligent assault and misconduct to involuntary manslaughter, intentional assault and murder.
"On May 1st our investigation revealed that we had enough probable cause to bring charges against the six officers," Mosby said.
Man Rapes 5-Year-Old Girl, Blames Her For It
"It's not true! I was told to lie to you by the man sitting right next to me," Taylor said Nov. 12. "I don't even remember what I told you. But it wasn't true. The lie was that I put my penis in her mouth for Pudding Pops. My penis did get in her mouth, but I didn't put it in there. She put it in there. She grabbed me. She was experimenting. I was drunk and realized it too late."

Several people in the standing-room only courtroom gasped at Taylor's claims.
The convict went on to say he was "not a monster." Lucci responded by adding two more years to his sentence.
"Even in court he blamed the victim for taking his penis in her mouth as a form of experimentation," Lucci said. "At the age of 5!"
Taylor's attorney asked the judge to be excused from representing the rapist at his future appeal hearing.
------------------------------------------------------------------------------------------------------------
NYPD Officer Shoots And Kills Unarmed Man In Brooklyn
"He didn't do nothing wrong," Butler said of Gurley, per the New York Daily News. "He was just standing there and they shot him. He was an innocent man."
Liang, Bratton said, has been on the force less than 18 months and was on probationary assignment to the housing bureau. Liang and the other officer were taken to the hospital to be treated for tinnitus, which is a ringing noise inside the ears, often caused by gunfire.
Bratton said he talked Friday morning to Brooklyn District Attorney Ken Thompson, who's investigating the incident. NYPD Internal Affairs is also investigating.
And in Staten Island, another grand jury is currently looking at evidence to determine whether NYPD officer Daniel Pantaleo should face charges for putting Eric Garner into a chokehold during an arrest for selling untaxed cigarettes. The maneuver, which is banned under NYPD guidelines, contributed to Garner's death.
New York City Mayor Bill de Blasio told reporters Friday, according to Capital New York, that the shooting of Gurley "does appear to have been an accident" and that people shouldn't "connect all the dots" between Gurley, Brown and Garner.
Other lawmakers on Friday expressed alarm and concern over Gurley's death.
"The senseless killing of another unarmed African-American male by the NYPD should shock the conscience of all New Yorkers and the nation," U.S. Rep. Hakeem Jeffries (D-Brooklyn) said in a statement. "At this point, talk is cheap. The community demands action."

"Our Mayor and the Police Commissioner must commit to a systematic change in the law enforcement culture of this City," he added. "Anything less will not be tolerated."
New York City Public Advocate Letitia James said she was "deeply disturbed" by Gurley's death.
"The shooting of this unarmed man raises serious concerns about training and patrols in our city's public housing developments," she said in a statement.
Donna Lieberman, executive director of the New York Civil Liberties Union, expressed similar concerns.
"Given the long-standing concerns about vertical patrols and the mistreatment of public housing residents, this tragic shooting requires a close examination of vertical patrol tactics and training," she said in a statement to HuffPost.
Gurley's death recalls other fatal, police-involved shootings of unarmed black men in or near Brooklyn housing projects over the years.
Bratton on Friday said that vertical patrols are an "essential part of policing" the city's housing projects. He said crimes can take place inside the buildings' stairwells and on the roofs.
"People in those developments want us there," he added, pointing to a recent spate of crime in the Louis Pink housing projects -- where Gurley was killed -- including a recent homicide.
This story has been updated with new information throughout.
----------------------------------------------------------------------------------------------------------------------------